Yep, FEAR! To me, an even more nasty F-word than the one you thought I was writing about!
Every day, Fear holds us back. It might be from trying something new. It might be from walking away from a situation or person no longer serving our best self. Bottom line, Fear keeps us from wholly engaging in our lives and living to our fullest potential.
Now, let's be fair to Fear…Fear can be useful. It raises the hairs on the back of your neck to alert you someone is following you. Fear can motivate you into action, getting that project done so you don't get called out by your boss. Fear of failure can also push you forward. But this type of action isn't sustainable, and quite frankly, if Fear is the motivator, than it's not going to be very fun, either!
So, here's one of my all time favorite questions…
What would you do if you were not afraid?
Oh, the possibilities! Seriously, I want you to really mull this over. What would you do if you were not afraid?
Asking myself this very question changed the trajectory of my own life back in 2010, so I know the power of this question first hand.
Since October is the month of all things fearful, I think it makes it the perfect month for…Drum roll please…the FearLESS Fall 31-Day Challenge Opportunity!
Every single day in October you will face a fear, big or small.

It could be signing up for a dance class where you fear you will look ridiculous. It could be attending a new networking event. Maybe it's speaking with your boss on a new initiative you've created. Perhaps it's trying the new style of wearing mixed patterns! (I'm not gonna lie…this is a big one for me!!)
It doesn't matter what it is, just do it. Face that Fear head on. If it's really paralyzing you, ask yourself, what's the worse that can happen? Even if you start small, it will begin to build momentum and your confidence that anything is possible…which it IS, by the way!
That's it. Just one rule! Now, I would love to hear about your FearLESS Journey. So feel free (and fearless) to
email me
or join in the conversation on my
Facebook page
.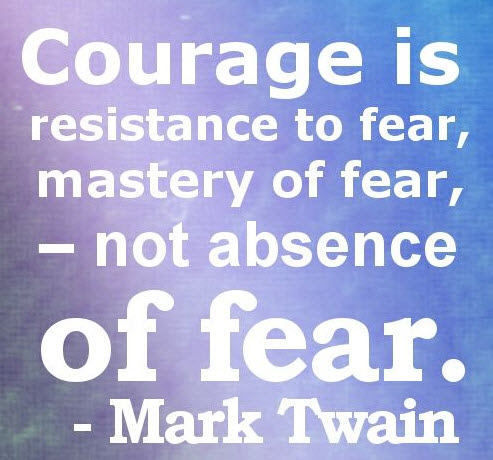 And, because it's important to me to never ask of someone what I'm not willing to do myself, I, too, will be stepping into my own FearLESS Journey, which I will share on Facebook throughout the month.
What could possibly happen if you spent 31 days in Courage! ANYTHING!
If you truly feel paralyzed by fear, then call me and let's work together to break through what's holding you back! You can also join in my

October 22nd

HOLY SHIFT! workshop. Details are below.
Here's to FEARLESSLY discovering your bliss!
Lesley Picchietti, CPC, ACC, ELI-MP
© Inspire Bliss Coaching and Consulting 2014
Unauthorized use and/or duplication of this material without express and
written permission from this blog's author and/or owner is strictly prohibited. Excerpts and links may be used, provided that full and clear credit is given to Inspire Bliss Coaching and Consulting with appropriate and specific direction to the original content.