A Lesson From Mrs. Maisel
(Originally published May, 24, 2019)
Yep, I'm slow to the masses. People have been talking about this show (The Marvelous Mrs. Maisel) for awhile, and I just binged seasons 1 & 2. Personally, I think it's hilarious, yet one particular episode had such a poignant moment, I actually took a video of it. Since I couldn't figure out how to get the video to work here (LOL) here's the jist…
"I've missed you, Momma." – Mrs. Maisel
"I've missed me too." – Mrs. Maisels' mother
Holy Cow! This hit me like a ton of bricks! I can remember saying something similar to a friend of mine over 10 years ago. Whatever life circumstances were happening, I just felt so far away from myself. Of course, I was still me at the core, but that core had been getting wrapped in doubt, fear, anger, resentment, uncertainty, and years of life being 'good enough.'
It certainly wasn't bad. I had a lot for which to be grateful. A job that I loved, a roof over my head, an amazing family, my health. And this wasn't about not having gratitude. This was about feeling disconnected from myself and my life on some level. I couldn't really articulate it at the time. I just remember saying, 'I miss me.'
Cue guilt! Who was I to complain about my life when so many others are suffering? Who was I to want more? Who was I to believe that I deserved more?
The past decade has proved to me time and time again that we actually have so much more control over our lives than we think. And talk about grateful…I am so incredibly grateful for the journey that has gotten me here…to a place of full gratitude for everything…even the stuff that feels crappy…and a place where 'good enough' is no longer welcome.
This is a place where I have clarity of what I want. This is a place where I can create what I want in my life. And most importantly, this is a place where I am back to myself. Connected and aligned.
A major part of my alignment is the work I get to do. To work with my individual and corporate clients to move them back to their true selves. Come on, I have the most awesome job in the world! And this is why I am so excited to be taking it to the next level. What? There is a next level? Holy Smokes, what is it?
Finally, after years of thinking and talking about it, I'm finally leading my first retreat! Partnering up with Addie Smits and Barb Heenan, it's time to provide a deeper dive for women who might feel a little stuck, disconnected, or just 'good enough.' Perhaps you don't have clarity on what you want, really. Maybe you haven't fully stepped into your power or don't feel completely confident using your voice. Maybe it's just time to kick it up a notch!
Ladies, (sorry fellas and couples, I'm working on your retreats as I type!) if you are: ready to take a deeper look into what might be limiting you from accessing your power and what might be dimming your light; wanting to spend some time getting grounded in nature; want to learn more about yourself; hit the pause button to get a reset and, of course, have some fun, then…JOIN US!
Reset and Renew: The Light Within You
Women's Retreat
October 4-6, 2019
Wingspread Retreat Center, Racine WI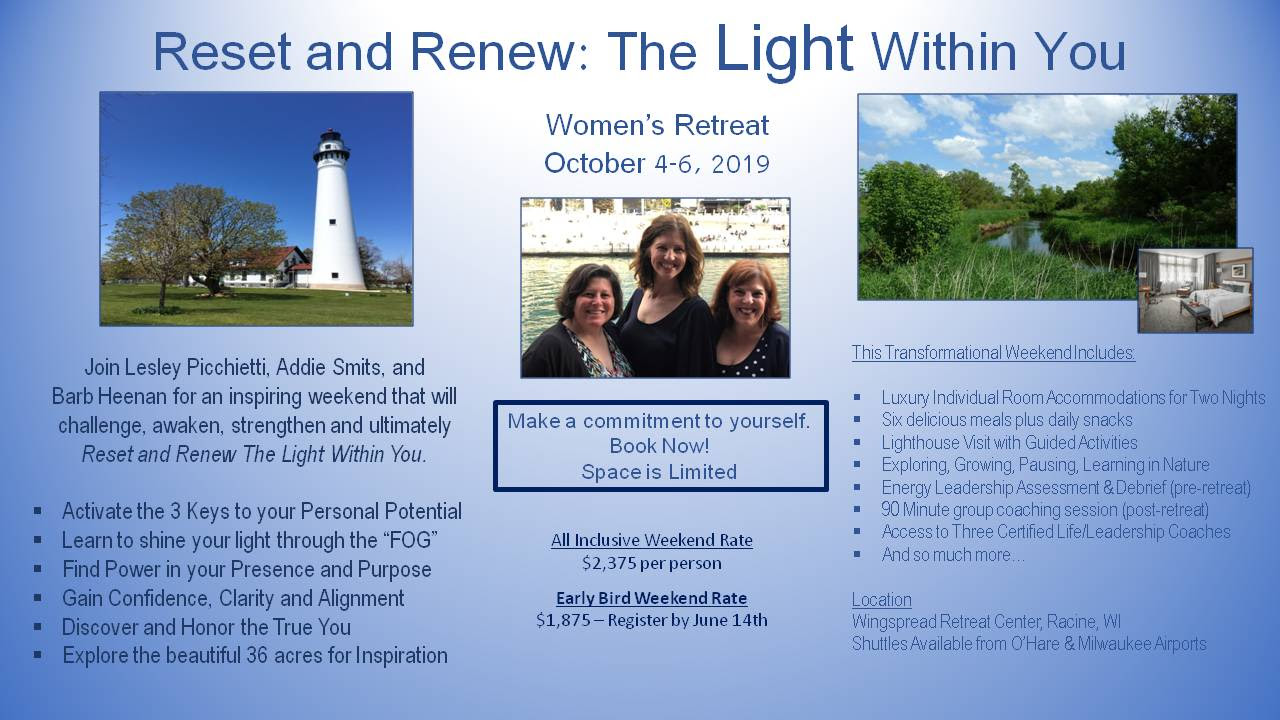 All the details can be found here! And you can holler if you have any questions.
Make a commitment to yourself knowing that when fall arrives, you're ready to step into more of who you are and release all the stuff that's having you play small and dimming your light.
We are offering an early bird special, only until June 14th. Click here for all the information and to register!!
Space is limited as we want this to be intimate, so don't delay, grab your spot today!
Time to re-align!
XOXO

Lesley Picchietti, PCC, CPC, ELI-MP
Lesley@InspireBlissCoaching.com
© Inspire Bliss Coaching and Consulting 2019
Unauthorized use and/or duplication of this material without express & written permission from this blog's author and/or owner is strictly prohibited. Excerpts and links may be used, provided that full and clear credit is given to Inspire Bliss Coaching & Consulting with appropriate and specific direction to the original content.