Do you have 20/20 vision for 2020?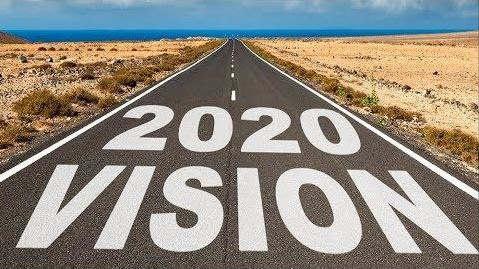 How is it that 2020 is right around the corner? I was just partying like it was 1999! (I couldn't resist!)
We often take stock at the end of each year…What did I accomplish? What didn't I accomplish? Where did I grow? Where do I still feel stuck? The end of this year feels very different to me. We are approaching a new decade and that has me reflecting on the last decade of my life…holy crap, things just got real!
Ten years ago…16 years married, owned upside down rental properties, drowning in debt, and my father was diagnosed with Stage 4 lung cancer. I was working with Chicago Jazz Philharmonic (CJP) as a teaching artist, had just moved into the program manager staff position, and at 13 years in, I was beginning to wind down my 16 year career as a jazz vocalist and band leader.
I think back to that time. It wasn't all bad, per se, but it certainly wasn't great. What I most remember was feeling that I had lost myself along the way and was simply going through the motions of much of my life. When 2010 came along, I was ready to make some major changes.
We don't make change until the pain is greater than the fear of the change. I was finally allowing myself to feel the pain and face the fear.
Holy cow was I scared! Ending my marriage and being alone for the first time in over 20 years. Facing the debt. What the hell was I doing? I was starting new at 45 years old! OMG when did I get to be middle-aged? Yet, deep down inside, I knew I was ready. It was strangely empowering. I was so grateful for my family and friends, and my CJP family. I believe that job saved my life. I was so connected to its mission and the people. It brought me much joy during a difficult time. It was also a not-for-profit job which meant not-for-profit pay. How was I ever going to have financial security?
Then one day in fall of 2010, the radio announcer asked, "What would you do if you were not afraid?"
I love this question so much! Whether you admit it or not, we are all held back by fear. This was the day I made the decision to register for iPEC, The Institute for Professional Excellence in Coaching, a year long intensive program to become a certified professional coach. The irony does NOT get lost on me. I wanted to support others in their lives when mine was a hot mess!
It was during this year I learned amazing skills that I would bring into my new business, and more importantly, I dug deep into my own personal growth. Not easy nor pleasant, but this was the beginning of learning how to create the life that I actually wanted. That sounds like such a line and I just vomited a little in my mouth as I wrote it! Yet it is 100% true!
It's also true that it hasn't been all rainbows and unicorns. There has been great loss along the way; my father, mother, cousin, best friend from college, best friend from high school, 2 fur babies, aunt, uncle, the sale of my grandparents home, cleaning out my childhood home and on and on. I am just more equipped to ride the waves of loss, grief and change.
So here I sit, nine years later, facing 2020 with a very different perspective. I'm financially abundant, enjoy fulfilling relationships, own a thriving business doing work that I LOVE and traveling the world. I meet and work with amazing people who inspire me everyday. But the biggest difference from 10 years ago…I am more my true self than ever before. I could have NEVER imagined how much I would change over this decade. Saying 'I am grateful' is a huge understatement! So why am I sharing all this?
'Cause now it's YOUR turn to check your Vision for 2020!
Welcome to my 5 Step Process!
STEP 1:
Think back to the end of 2009 (insert dreamy flashback music) and ask yourself:
Who were you?
What were you doing for work and fun?
Who was in your life and why?
What was stressing you out?
What were you passionate about?
How fulfilling were your relationships?
How was your health?
How much guilt, worry, overwhelm, anxiety were you experiencing?
How purposeful did you feel?
STEP 2:
Now come back to the present moment of 2019 (insert dreamy flashback music again) and ask yourself:
Who are you?
How engaged are you at work?
What are doing for fun?
Who is in your life and why?
What is stressing you out?
What are you passionate about?
How fulfilling are your relationships?
What are you tolerating?
How is your health?
How authentic do you live?
How much guilt, worry, overwhelm, anxiety are you experiencing?
How connected are you to your purpose?
STEP 3:
Now look at both lists.
How much has changed?
How much has stayed the same?
What else do you notice?
We're not looking at these lists to judge you. We simply want to get a clear picture of who you are so you can decide who you want to be.
Cue dreamy music again!!
STEP 4:
Put yourself into November 2029…WOW that's weird to type!! What would you want to create in your life if you weren't afraid? Dream big here. No limits!! A LOT can change in 10 years, even 1 year!!
Who do you want to be?
What kind of work do you want to be doing that will fully engage you?
How much fun do you want to be having?
How are you connecting to your purpose and passion?
How confident do you feel in your own skin?
How powerful do you want to feel?
What kind of team/culture have you created at work?
What fulfilling relationships do you want to create?
What do you want out of your health?
How authentic do you want to live?
STEP 5:
Now that you have clarity around what you want…really want…what's the first step you're willing to take to make your dream for 2020 and the next decade a reality? And if you still don't have clarity, that's okay, too!
What would it feel like to give yourself 30 minutes, an hour or more to dig deep and answer these questions and then dream to create your future?
If you're looking for more 1:1 support to create a New Year as your most transparent self, releasing fear of judgment, and focusing your energy on all that YOU want, then contact me pronto! Let's do this!! And Ladies, we have something special to kick off your year below!!
Remember, anything's possible!
Wishing you all a Happy Thanksgiving!
XOXO

Lesley Picchietti, PCC, CPC, ELI-MP
Lesley@InspireBlissCoaching.com
© Inspire Bliss Coaching and Consulting 2019
Unauthorized use and/or duplication of this material without express & written permission from this blog's author and/or owner is strictly prohibited. Excerpts and links may be used, provided that full and clear credit is given to Inspire Bliss Coaching & Consulting with appropriate and specific direction to the original content.
Message me for an amazing offer!!!